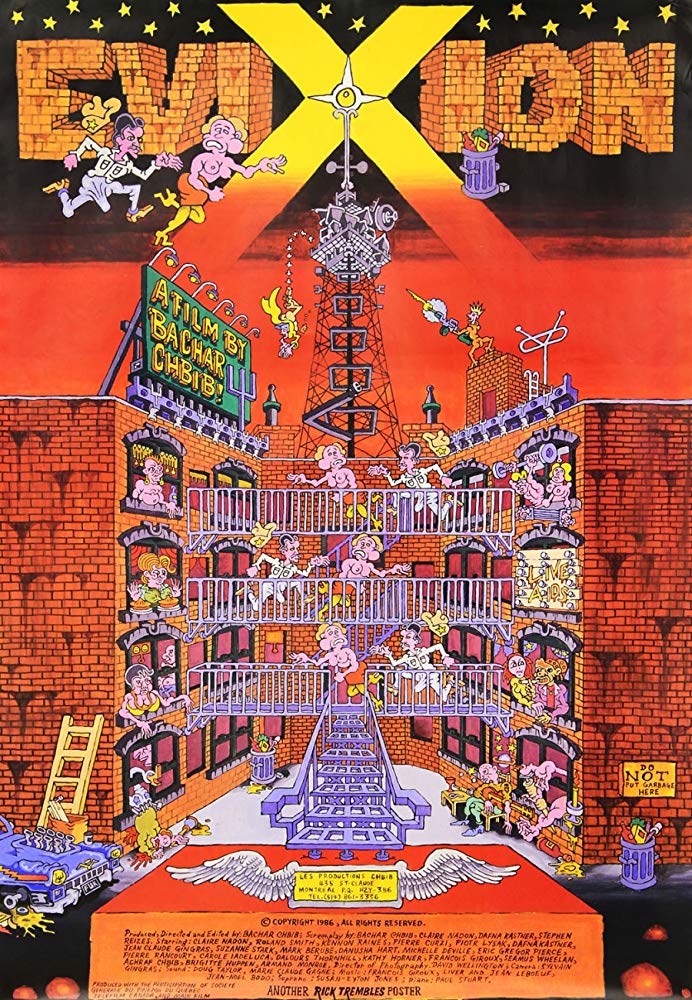 a Bashar Shbib film
EVIXION
Fiction, Drama, 79:00 min, 1986, 16mm, colour, NTSC.
Synopsis
Imagine a surreal narrative, without dialogue, in a style reminiscent of the twenties' silent era and seen through the lens of moving voyeuristic camera that records the odd whereabouts of an unseemly group of marginal tenants. An aging homosexual (Armand Munroe) and his drug-addicted lover (Piotr Lysak), a couple of fitness-freak yuppies (Mark Bérubé and Daphna Kastner), an eccentric haitian lady and her son (Dalours Thornhill and Roland Smith), a punkish, crazy diva (Kennon Raines), as well as other bizarre and incongruous characters. united to prevent their eviction. Watch them unravel in anarchy while they fight against the foul manoeuvres of an ingenious but nasty landlord (Jean-Claude Gingras) and his accomplice (Claire Nadon) who wants them evicted once and for all...
The viewers ask themselves all sorts of questions about this film: "What am I watching?", "What is happening before my eyes?" This is a film that will make you either leave the theater or keep you glued to your seat until the very end.
"Non narratif, non linéaire..." ("Non narrative, non linear...")
Michel Euvrard, Le Devoir
"...il s'en dégage une cohérence certaine, un humour féroce et une grande fébrilité de cinéaste...de bizarroÎdes personnages punky, surréalistes et invisibles." ("...shows a sure coherence, a wild humour and a lively energetic direction...with outlandish, punkish, surreal, invisible characters.")
Michel Villeneuve, Liaison St-Louis
"Jewels in the garbage" and "The soundtrack...is an accomplishment on its own." and "...those who are attuned to the madly unconventional, will probably be entranced..."
Jay Scott, The Globe and Mail
"EVIXION...is alert, funny, unexpected and, at the same time, very structured, astonishingly rigorous."
Michel Euvrard, Le Devoir
"Une telle frénésie, une telle dépense d'énergie, une telle génrosité libertaire..." ("Such frenzy, such energy, such generosity...")
Thierry Horguelin, Continuum
"...rabid sense of alienation."
José Arroyo, Cinema Canada
"...an infuriating experimental film...for seekers after esoteric film making."
Variety
Cast & Crew
STARRING : CLAIRE NADON, ROLAND SMITH, KENNON RAINES, PIERRE CURZI, PIOTR LYSAK, DAPHNA KASTNER, JEAN-CLAUDE GINGRAS, SUZANNE STARK, MARK BÉRUBÉ, DANUSHA HART, MICHELLE DEVILLE, ÉRIC GREGOR PIERCE, PIERRE RANCOURT, CAROLE IADELUCA, DALOURS THORNHILL, KATHY HORNER, FRANÇOIS GIROUX, SEAMUS WHEELAN, ACHRAF CHBIB, BRIGITTE HUPPEN, ARMAND MONROE
SCREENPLAY : BASHAR SHBIB, CLAIRE NADON, DAPHNA KASTNER, STEPHEN REIZES
DIRECTOR OF PHOTOGRAPHY : DAVID WELLINGTON
CAMERA : SYLVAIN GINGRAS
SOUND : DOUG TAYLOR, MARIE-CLAUDE GAGNÉ
MUSIC : FRANCOIS GIROUX, LIVER AND JEAN LEBOEUF, JEAN-NOËL BODO
SOPRANO : SUSAN EYTON-JONES
PIANO : PAUL STUART
PRODUCED, DIRECTED AND EDITED BY : BASHAR SHBIB
THIS FILM IS PRODUCED WITH
THE FINANCIAL PARTICIPATION OF:
TELEFILM CANADA
LA SOCIÉTÉ GENÉRALE DU CINEMA DU QUEBEC (SGCQ)
MAIN FILM
All Rights Reserved © 1986 Oneira Pictures International