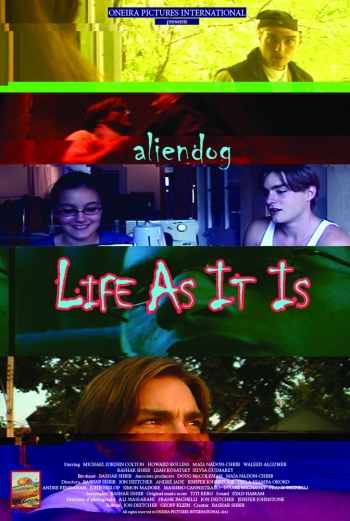 a Bashar Shbib film
Compilation of Webseries:
Broadcast daily over the Internet. Alien Dog: LIFE AS IT IS
Fiction, Drama, 79:14 min, 2000, DV, colour, NTSC.
Synopsis
Life as it is is a compilation of episodes from the first webshow broadcast daily on the internet in Canada. "ALIEN DOG – LIFE AS IT IS" deals with various aspects of contemporary youth culture. The main characters, Sean (Michael Jorden Colton), a drug dealer, Karen (Maïa Nadon-Chbib), a business student, and others, face a variety of issues ranging from love and drugs to unemployment, and the search for identity. In the end, they come to understand that life's basic lessons are universal, no matter the culture or origin. The question is, to live or let live.
Cast & Crew
STARRING : MICHAEL JORDEN COLTON, MAÏA NADON-CHBIB, LEAH KOSATSKY, WALEED ALGUMER, HOWARD ROBBINS, TADZEO HORNER-CHBIB, BASHAR SHBIB, NOAH KOLE, SILVIA GUIMAREY, DAPHNE BRUNEAU, PIERRE LALIBERTÉ, ANDRÉ JADE, URIEL ISAAC,
PRODUCER : BASHAR SHBIB
ASSOCIATE PRODUCERS : DOUG McCOLEMAN, ROBERT YATES
DIRECTORS : BASHAR SHBIB, ANDRÉ JADE, DJELA DJAMBA OKOKO, SIMON MADORE, LOUISE MIGNAULT, HOMBELINE DUMAS
SCREENPLAY : BASHAR SHBIB, HOMBELINE DUMAS, URIEL ISAAC, ANDRÉ JADE, LOUISE MIGNEAULT, DJELA D. OKOKO, NOAH WOHL
ORIGINAL MUSIC SCORE : MARWAN JUNO FARHOUD, TITI REBO
SOUND : BRUNO PUCELLA, MARWAN JUNO FARHOUD 
LINE PRODUCER : NADIA MORENCY
DIRECTORS OF PHOTOGRAPHY : HOMBELINE DUMAS, ANDRÉ JADE, ALEX CHARTRAND, BASHAR SHBIB, ALEX BUSSIÈRE, SIMON MADORE, OLIVIER SOMMELET
EDITORS : JON DEITCHER, GEOFF KLEIN
CREATOR : BASHAR SHBIB
All Rights Reserved © 2000 Oneira Pictures International