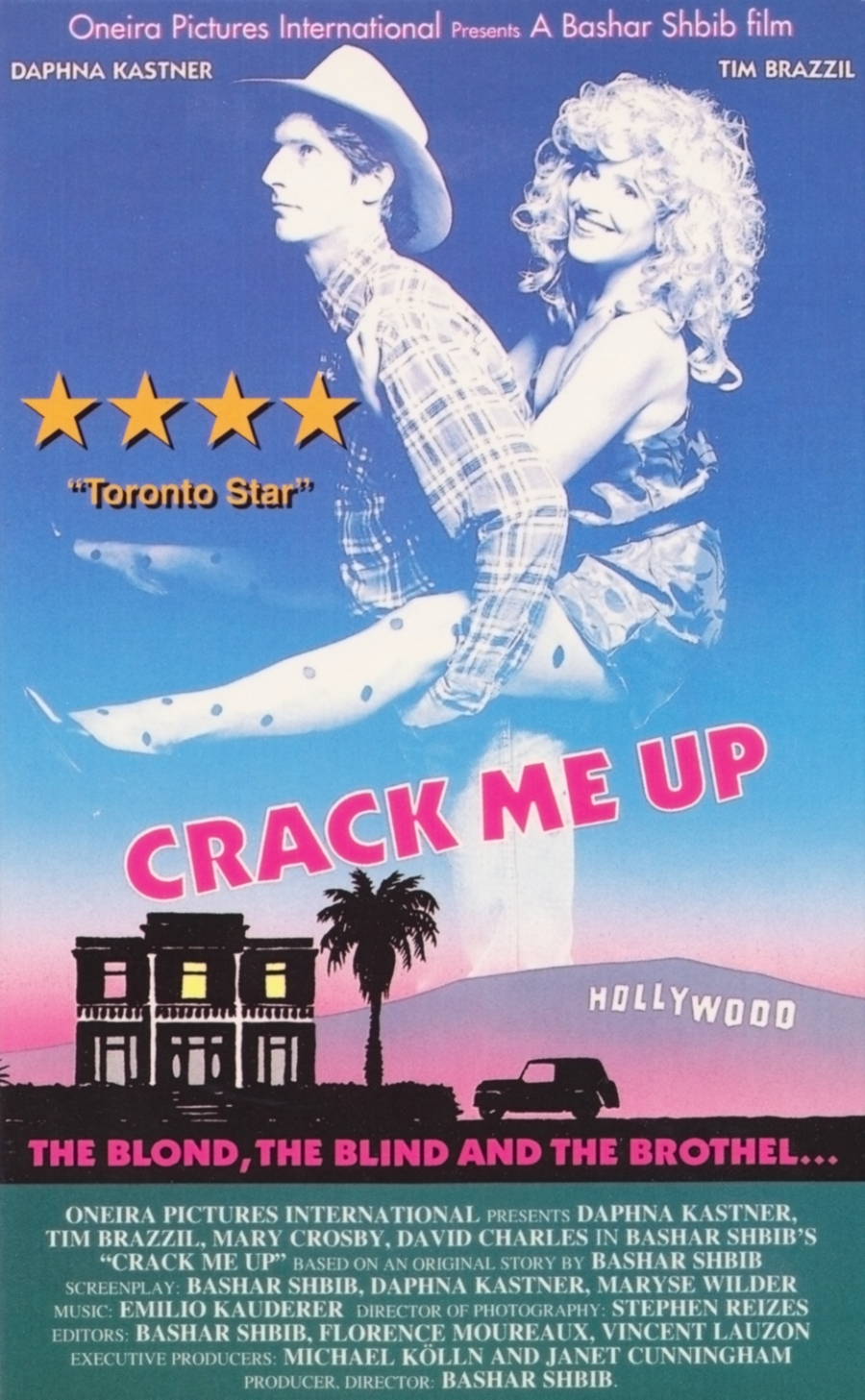 a Bashar Shbib film
CRACK ME UP
Fiction, Drama, 75:25 min, 1991, 35mm, colour, NTSC.
Synopsis
THE BLOND, THE BLIND AND THE BROTHEL...
The film weaves the tale of Louie B. (Tim Brazzil), a hapless cowboy who thinks the world would be a better place if strangers would kiss each other more often. After a run-in with a band of crooks headed by Stacey, (Mary Crosby), Louie goes blind. He is taken in by Billie Jean – a tough-love prostitute (Daphna Kastner), and her colleagues – who are as gay as they are straight.
What follows is a fabulously eclectic look into the life of an East Hollywood, Heidi Fleiss-style bordello for the working man, whose goal it is to liberate heterosexual social mores.
"...sweet little charmer...good dialogue, gritty direction and the regular mix of hip tricks..."
Katherine Monk, Vancouver Sun
"... slummy camp, porno spoof and slice-of-life realism... bitchy, funny and sad."
Ken Eisner, Weekly Variety
Cast & Crew
STARRING : DAPHNA KASTNER, TIM BRAZZIL, MARY CROSBY, DAVID CHARLES, JANET CUNNINGHAM, KENNON B. RAINES
ORIGINAL STORY : BASHAR SHBIB
SCREENPLAY : BASHAR SHBIB, DAPHNA KASTNER, MARYSE WILDER
MUSIC : EMILIO KAUDERER
DIRECTOR OF PHOTOGRAPHY : STEPHEN REIZES
EDITORS : BASHAR SHBIB, FLORENCE MOUREAUX, VINCENT LAUZON
ASSOCIATE PRODUCER: DIDIER FARRÉ, GREGOR VON BISMARCK, WENDY RITTERMAL
EXECUTIVE PRODUCER : MICHAEL KÖLLN, JANET CUNNINGHAM
PRODUCER / DIRECTOR : BASHAR SHBIB
All Rights Reserved © 1991 Oneira Pictures International