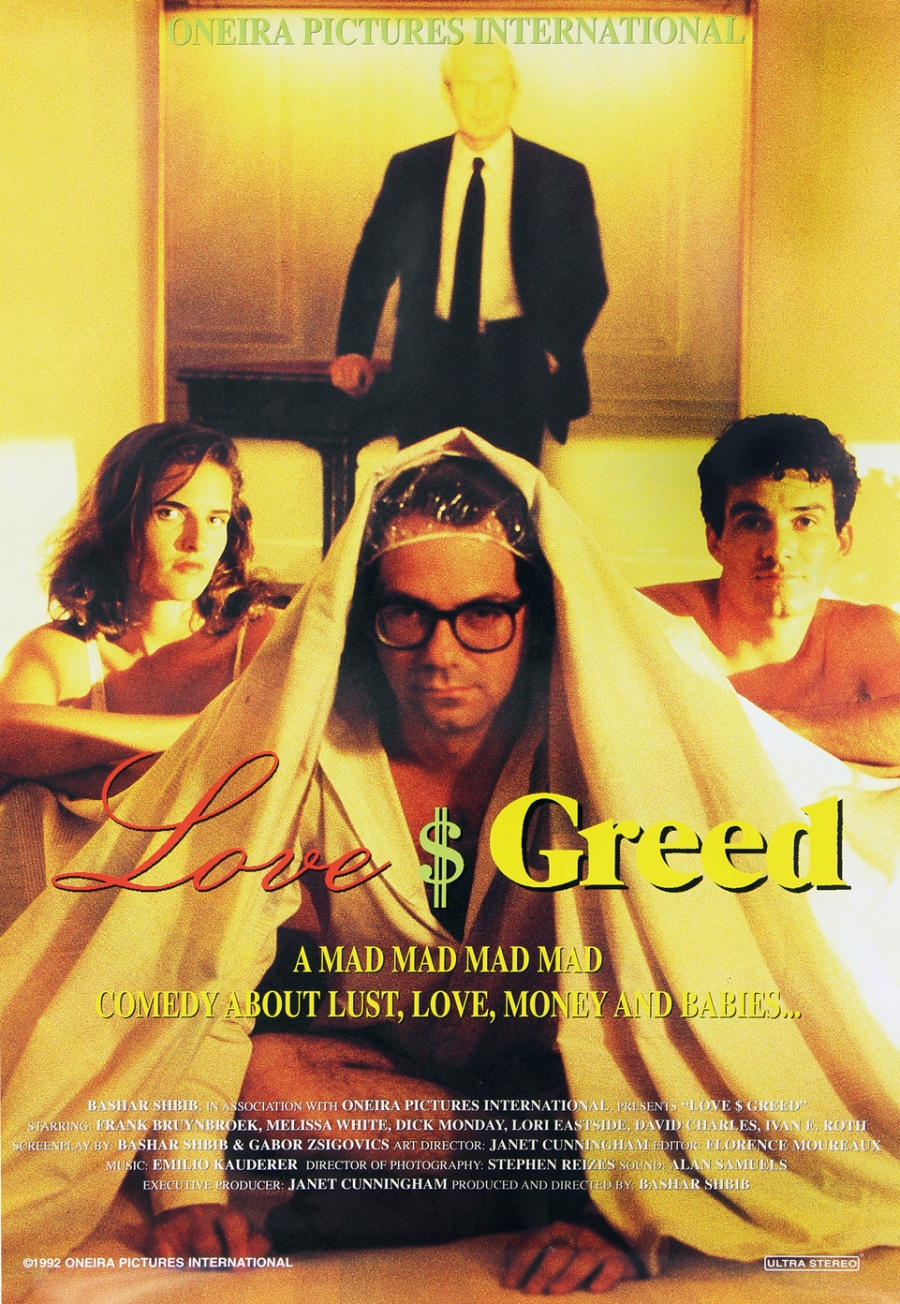 a Bashar Shbib film
LOVE $ GREED
Fiction, Comedy, 80:38 min, 1991, 35mm, colour, NTSC.
Synopsis
Robert and Alexandra (Franck Bruynbroek, Melissa White) haven't had the best marriage. Living separately for quite some time, they are stunned to find out that an eccentric uncle Leopold has left them $23 million. But there's one condition, they have to produce a child within one year. That news doesn't exactly cheer their current mates, Suzie (Lori Eastside) and Ted (Dick Monday); but the foursome are willing to give it a try.
They all move into Leopold's mansion to conceive the "money baby", with a certified witness (David Charles), the uncle's devoted butler (Ivan Roth) and a gaggle of therapists in tow. They might not produce a child, but you can be sure there will be plenty of laughs when the foursome show both their love and their greed.
"...a funny movie about lust, love and greed... (Melissa) White is a natural."
Suzan Ayscough, Variety
"...une histoire abracadabrante..." (...an abracadabra story...)
Héléne de Billy, L'Actualité 
« Du gros rire..." ( Big laughs...)
Serge Dussault, La Presse
Cast & Crew
STARRING : FRANK BRUYNBROEK, MELISSA WHITE, DICK MONDAY, LORI EASTSIDE, DAVID CHARLES, IVAN E. ROTH
SCREENPLAY BY : BASHAR SHBIB, GABOR ZSIGOVICS
ART DIRECTOR : JANET CUNNINGHAM
EDITOR : FLORENCE MOUREAUX
MUSIC : EMILIO KAUDERER
DIRECTOR OF PHOTOGRAPHY : STEPHEN REIZES
SOUND : ALAN SAMUELS
EXECUTIVE PRODUCER : JANET CUNNINGHAM
PRODUCER, DIRECTOR : BASHAR SHBIB
All Rights Reserved © 1991 Oneira Pictures International