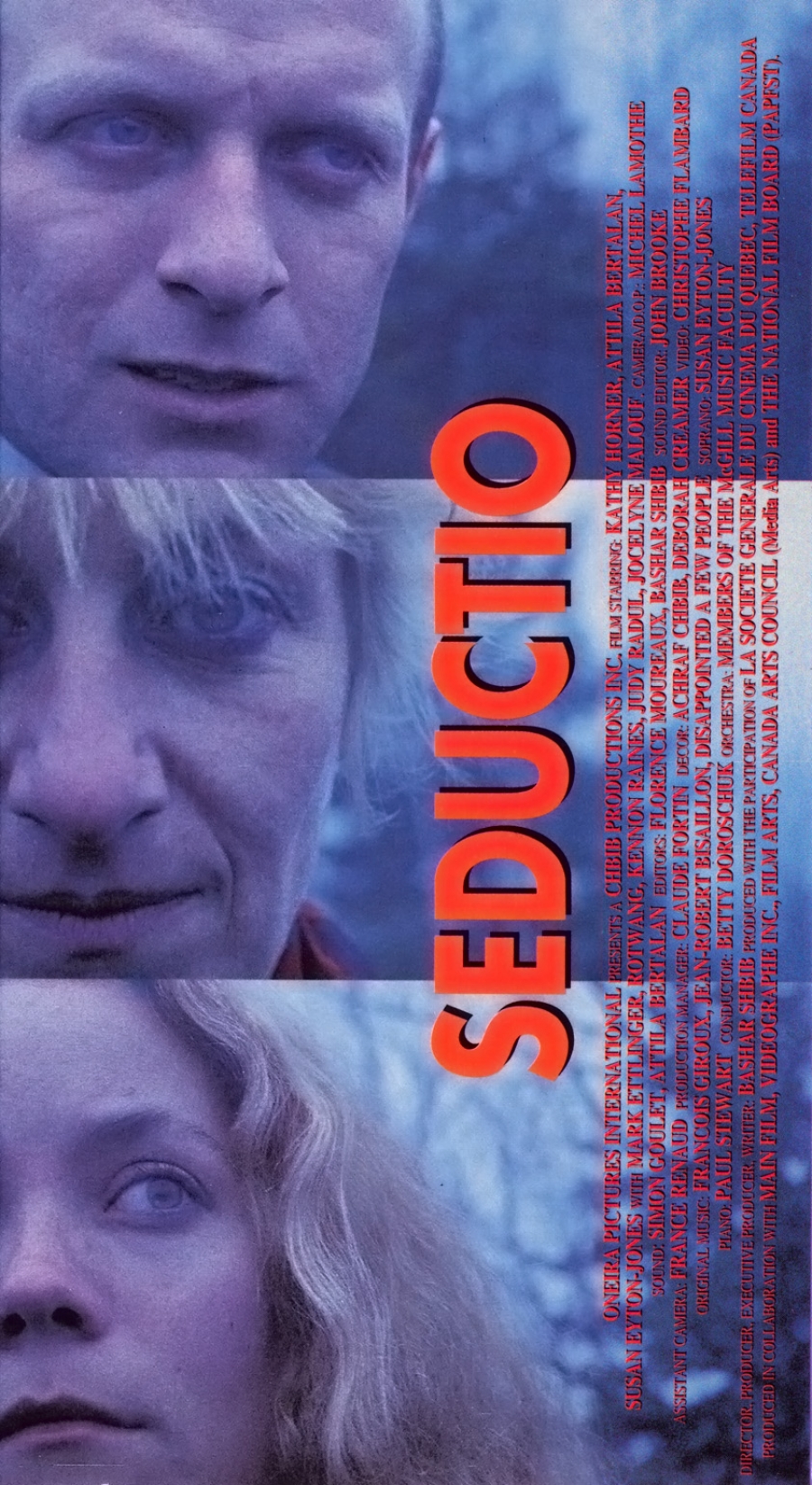 a Bashar Shbib film
SEDUCTIO
Fiction, Drama, 80:29 min, 1987, 16mm, colour, NTSC.
Synopsis
A trailer is parked deep in the forest. Its occupants are Mikael (Attila Bertalan) and his wife Melanie (Kathy Horner). Mikael is a film director. He is seeking locations to put an opera on video. Melanie lives in her own world, listening to the sounds of strange forest occupants. Are they the product of her imagination? Mikael thinks it's all madness and has nothing but contempt for this woman obsessed by a mad fear of bears.
It is then when Susan (Susan Eyton-Jones) and Rikard (Mark Ettlinger) arrive. Susan, the beautiful diva with a superb voice much-admired by Mikael, is the star of his production, Rikard being the cameraman. The two couples hold out their complex inter-relationships.
The crew films the video. It is over with - or is it? Another episode takes place, one of seduction, fear and death that involves Rikard and Melanie. The two are caught in a web created by Mikael; an act which end tragically causes Melanie to meet her fate. Other events will follow in a path of connivance and disappearances. The course of events will finally bring back Mikael to his true fate...
Cast & Crew
STARRING : KATHY HORNER, ATTILA BERTALAN, SUSAN EYTON-JONES, MARK ETTLINGER, ROTWANG, KENNON RAINES, JUDY RADUL, JOCELYNE MALOUF
CAMERA/DIRECTOR OF PHOTOGRAPHY : MICHEL LAMOTHE
SOUND : SIMON GOULET, ATTILA BERTALAN
EDITORS : FLORENCE MOUREAUX, BASHAR SHBIB
SOUND EDITOR : JOHN BROOKE
ASSISTANT CAMERA : FRANCE RENAUD
PRODUCTION MANAGER : CLAUDE FORTIN
DECOR : ACHRAF CHBIB, DEBORAH CREAMER
VIDEO : CHRISTOPHE FLAMBARD
ORIGINAL MUSIC : FRANÇOIS GIROUX, JEAN-ROBERT BISAILLON, DISAPPOINTED A FEW PEOPLE
SOPRANO : SUSAN EYTON-JONES
PIANO : PAUL STEWART
CONDUCTOR : BETTY DOROSCHUK
ORCHESTRA : MEMBERS OF THE McGILL MUSIC FACULTY
DIRECTOR, PRODUCER, EXECUTIVE PRODUCER, WRITER : BASHAR SHBIB
PRODUCED IN COLLABORATION WITH : MAIN FILM, VIDÉOGRAPHE INC. , FILM ARTS and THE NATIONAL FILM BOARD
THIS FILM IS PRODUCED WITH
THE FINANCIAL PARTICIPATION OF:
TELEFILM CANADA
LA SOCIÉTÉ GENÉRALE DU CINEMA DU QUEBEC (SGCQ)
CANADA ARTS COUNCIL
All Rights Reserved © 1987 Oneira Pictures International