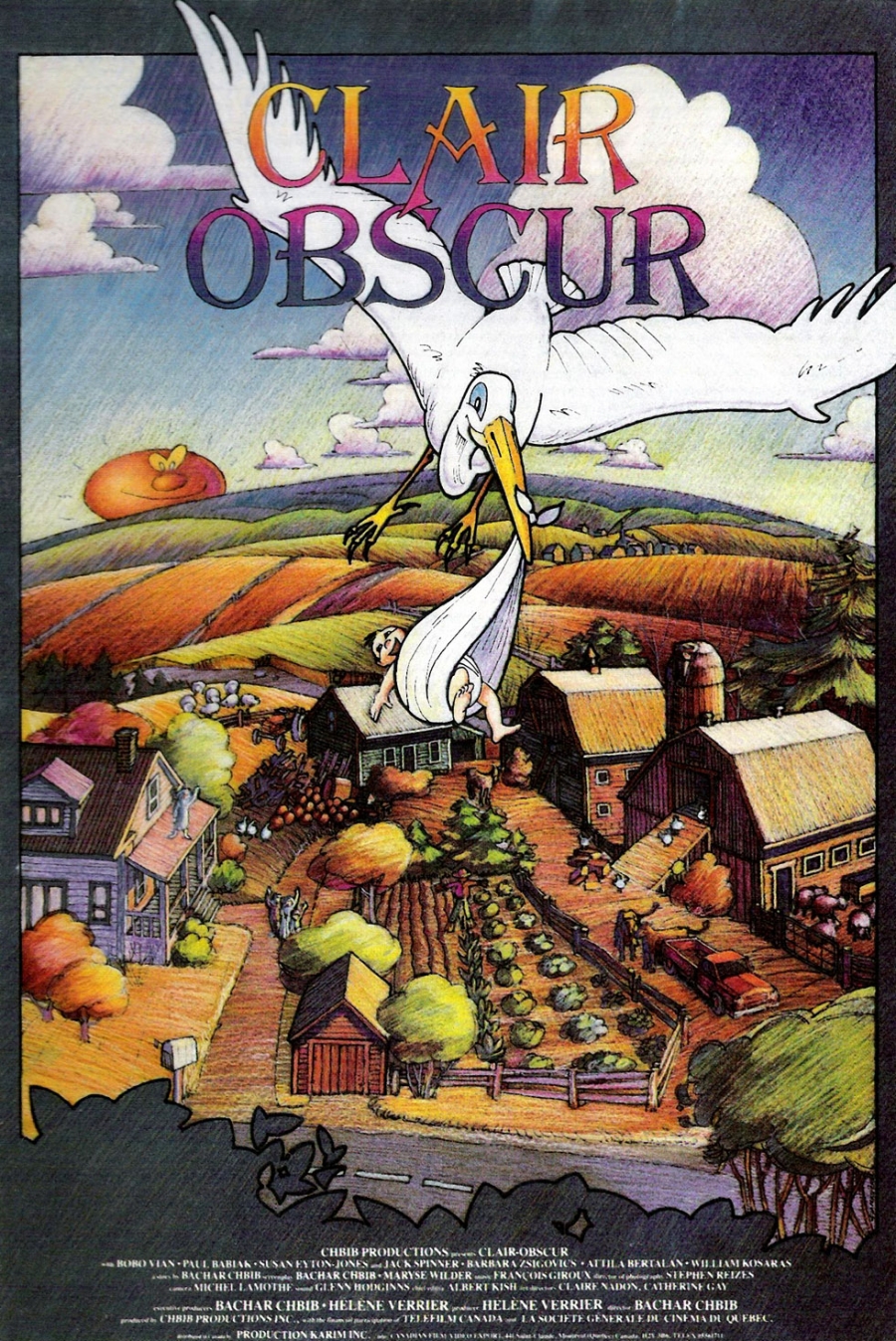 a Bashar Shbib film
CLAIR OBSCUR (THE STORK)
Fiction, Musical, 75:48 min, 1988, 35mm, colour, NTSC.
Synopsis
Without dialogue, the film paints the picture of an old farm out in the country, not far from a village that has only one hotel. It is here where Edouard (Jack Spinner) lives with his son, Philip (Paul Babiak), his austere wife, Anne (Bobo Vian), and their daughter, Stephanie (Barbara Zsigovics).
Their daily routine is suddenly interrupted by the enigmatic Pol (Susan Eyton-Jones), a singer who returns to the village after several years' absence. Under her spell, Philip feels inexorably drawn to the hotel where she is singing. In neglecting his family, tensions begin to arise.
Thus ensues an altercation between father and son: Edouard confronts Philip for refusing to accept his inevitable responsibilities, which erupts in a physical brawl. Edouard becomes injured and bedridden. Meanwhile, despite Anne being the mother of Philip's child, she finds great difficulty in trying to rekindle their marriage. Obsessed by her desire for vengeance, she withdraws into herself by day and at night, takes to sleepwalking. Conflicts between the members of the family reach an eventual climax and the unexpected arrival of a stork culminates in a turbulent, but happy ending.
"... a feast of colour and detail ..."
Ina Warren, The Gazette
"Undeniably original... a daydream that oscillates between the innocent world of children and the violent one of adults... images are as moving as they are strange: the artistry serves both poetry and tenderness..."
Yves Lafontaine, 24 Images
"...the magical quality of the film is well-executed... a lyrical piece...impressions are felt, images linger, moods are drawn... colours are lush..."
Toby Zeldin, Cinema Canada
"A fairy tale for adults and opera lovers... Audacious!"
Francine Grimaldi, La Presse
Cast & Crew
STARRING : BOBO VIAN, PAUL BABIAK, SUSAN EYTON-JONES, JACK SPINNER, ATTILA BERTALAN, BARBARA ZSIGOVICS, WILLIAM KOSARAS, JEAN-CLAUDE LABRECQUE
SCREENPLAY : BASHAR SHBIB, MARYSE WILDER
MUSIC : FRANCOIS GIROUX, SUZANNE EYTON-JONES
DIRECTOR OF PHOTOGRAPHY : STEPHEN REIZES
CAMERA : MICHEL LAMOTHE
SOUND : GLEN HODGINNS
CHIEF EDITOR : ALBERT KISH
ART DIRECTORS : CLAIRE NADON, CATHERINE GAY
EXECUTIVE PRODUCERS : BASHAR SHBIB, HÉLÈNE VERRIER
PRODUCER : HÉLÈNE VERRIER
DIRECTOR : BASHAR SHBIB
THIS FILM IS PRODUCED
WITH THE FINANCIAL PARTICIPATION OF :
LA SOCIÉTÉ GENÉRALE DU CINÉMA DU QUÉBEC (SGCQ)
TELEFILM CANADA
All Rights Reserved © 1988 Oneira Pictures International