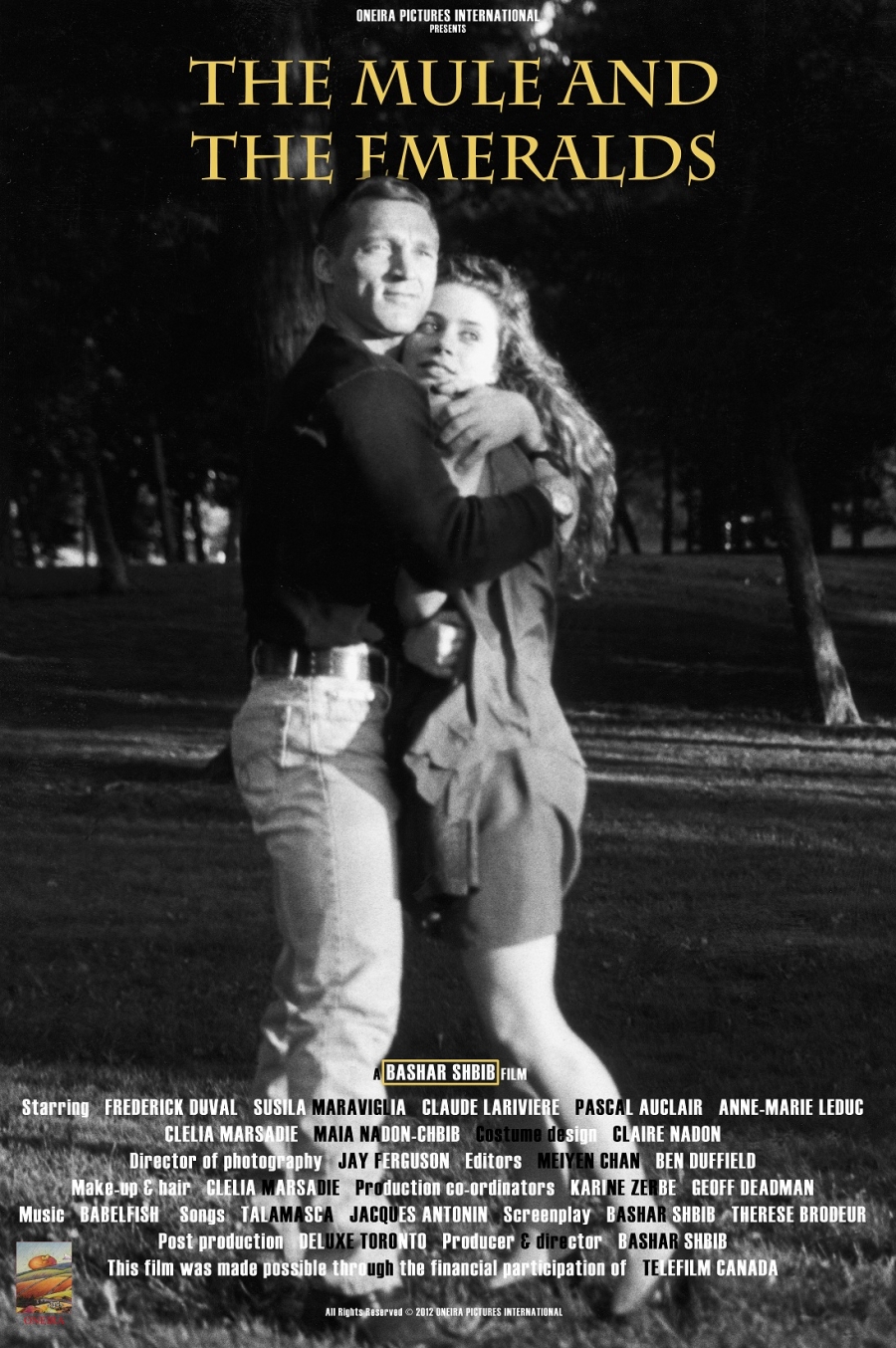 a Bashar Shbib film
THE MULE AND THE EMERALDS (French Language Original)
Fiction, Drama, 76:00 min, 1995, 35mm, colour, NTSC.
Synopsis
The jeweller Salomon has entrusted Nick (Frédérick Duval) with a special job, to deliver some gems to Charlie, who is known as "the Wolf of the Caribbean". What this young 'mule' doesn't know is that the emeralds have been stolen and are coveted by rival gangs.
When Salomon is bumped off, Nick has to deal, one after the other, with Andrew, Max, Sebastien, Lena (Anne-Marie Leduc) and his brother George (Claude Larivière), all of whom succeed in making the hunt for the emeralds just a little more complicated.
However, what worries Nick most is the affair of his beloved Jeanne (Susila Maraviglia) with a certain Marc (Pascal Auclair). But Nick has a plan – he will sell the emeralds for big bucks and use the money to take Jeanne far away. He sets up a meeting with one of the gangs and arranges to meet Jeanne at the same spot. Unbeknownst to Jeanne, she is followed by a rival gang. It is the confrontation between all of these upstanding characters that will take a most unexpected turn . . .
Cast & Crew
STARRING : FRÉDÉRICK DUVAL, SUSILA MARAVIGLIA, CLAUDE LARIVIÈRE, PASCAL AUCLAIR, ANNE-MARIE LEDUC, CLÉLIA MARSADIÉ, MAÏA NADON-CHBIB
COSTUME DESIGN : CLAIRE NADON
ART DIRECTOR: GABOR ZSIGOVICS
CAMERA / DIRECTOR OF PRODUCTION : JAY FERGUSON
EDITORS : MEIYEN CHAN, BENJAMIN DUFFIELD
MAKE-UP & HAIR : CLÉLIA MARSADIÉ
PRODUCTION CO-ORDINATORS : KARINE ZERBÉ, GEOFF DEADMAN
SOUND: HAIG ARMEN
MUSIC : BABELFISH
SONGS : TALAMASCA, JACQUES ANTONIN
SCREENPLAY : BASHAR SHBIB, THÉRÈSE BRODEUR
PRODUCER & DIRECTOR : BASHAR SHBIB
THIS FILM IS PRODUCED WITH THE FINANCIAL PARTICIPATION OF: TELEFILM CANADA
All Rights Reserved © 1995 Oneira Pictures International